Huginn and Muninn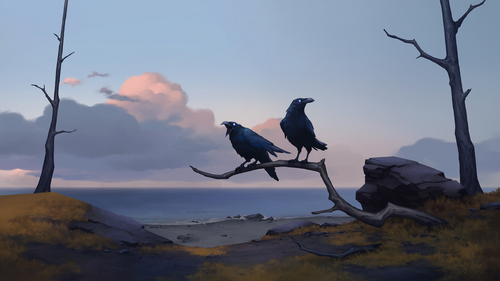 The Clan of the Raven. Great explorers and merchants, their mighty fleet allowed them to be the first to land on Northgard. They are strong trade partners if you don't mind their constant scheming. Brash and swift, they will often be found roaming where you least expect them.

Kröwns and Harbors play central roles for this clan. Money can be produced excessively, while tasks like colonization and exploration can simply be paid for, giving this clan a big edge by spending a less vital resource.

Happiness will rarely be an issue with Harbors and explored areas providing plenty and a wealthy military becomes nearly unstoppable.
Can build the Harbor (replaces Longship Dock) to explore coastal areas and later send Mercenaries attacks. Upgrading a Harbor grants +20% exploration speed.
+10% production from Merchants and Sailors.
500 Fame : Mercenaries
You can hire Mercenaries at your Harbor and send them to raid coastal areas.

Naglfar : Allows you to send two Son of Hrymr to raid coastal tiles.