Overview
[
]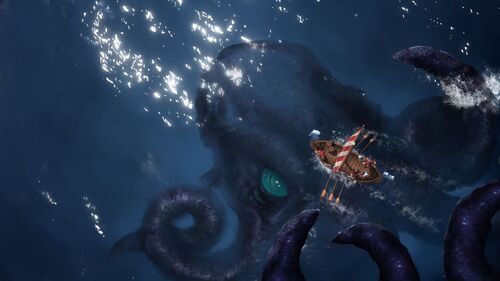 The Clan of the Kraken knows first hand how dangerous the sea can be. They worship the gigantic Creature, fearing it's brutal might, honoring it's instinctual knowledge, and using its powers when he deigns bestow them.
The clan's capacity to thrive is tied to the terrain because of its maluses on non-coastal areas. However, with enough access to shores, kraken benefit from fisheries producing good and stable

food income, which can easily be sold against

kröwns and
lore. Its unique resource,

Wyrd, can be scarce at the beginning but will become more abundant as the settlement extend. With high levels of

Happiness thanks to the
Norns and its military knowledges, kraken will be able to summon in the later stages of the game vast armies that would be eventually reinforced by a

Valkyrie and deadly
Spectral Warriors.
Starting Bonuses
[
]
Fame Bonuses
[
]
200 Fame : Future Sight
You gain 400 Wyrd.
You are warned of events long before they happen (~5 months).
During the attack of the kraken event, your clan is feasting.
500 Fame : Howl from The Sea Master
Each enemy unit killed outside your territory have 30% chance to become Spectral Warriors under your control (max 7).
Spectral warriors bring unhappiness to the zone controller.
Lore Tree

[

]
Relic
[
]
Edda of Vör : Allows your Norns to earn

Fame, at a rate of

1.2 Fame per month. Grants

1000 Wyrd once built.
Given by Vör, wise and curious, so that no one can hide anything from her.
Other Clans
[
]